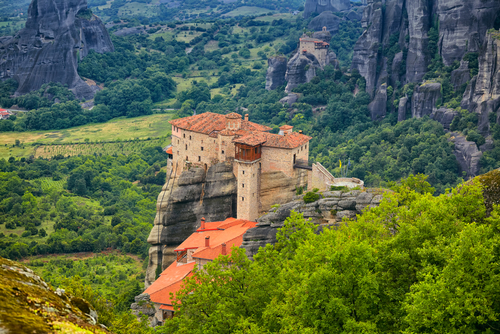 A UNESCO World Heritage site and a James Bond film location
Thessaly, mainland Greece
Sport and spirituality in the awe-inspiring setting of Meteora
Up a breathtaking stairway to heaven in mainland Greece.
Literally translating as "suspended in the air", Meteora is a rare, UNESCO-protected site:  dramatic rock formations towering above the lush plain of Thessaly. The setting is so extraordinary, there is little wonder why it enjoyed several minutes of cliff-hanging glory in the Bond film For Your Eyes Only.
Perched atop these rock towers are the monasteries of Meteora, home to hermits who sought tranquillity and proximity to god back in the 15th Century. Oozing spirituality and humbling allure, some are still active and few of these can be visited.
HELDEN can arrange for your team a journey to this inspiring display of Nature's mysterious works. Note that Meteora is also a popular site for rock climbing, mountain biking, paragliding and other activities that can enrich your project. Indeed, from there one might paraglide all the way down to the coastline: mainland to seaside in one, fulfilling day.
Gallery
More From This Category